Forest school sessions (2019-20)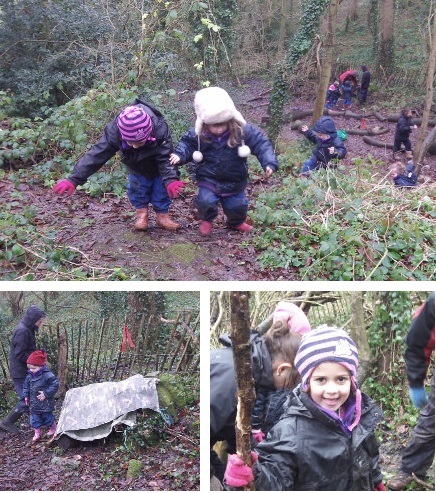 Our forest school sessions currently run on a Tuesday and Thursday morning. 
The Forest School ethos is to encourage and inspire children to develop their independence and self-confidence through activities in a woodland or outdoor setting. We use locations in the local area which are easily accessed, on foot, from preschool. Exploring and learning about the natural world helps the children to understand and value the plants and animals that make up our environment.
The children have opportunities to take part in a wide variety of activities, such as art and craft activities, story making and telling, constructing temporary shelters and playing adult-led and child-initiated games, encouraging the children to solve problems, take risks and work together. There are also opportunities for tool use, building on the woodworking sessions that the children already take part in at preschool.
Forest school and forest school activities support the holistic nature of children's exploration and learning, with many emotional and physical benefits.
The benefits for Forest Schools (PDF document).
A volunteer's experience of forest school sessions at our preschool (PDF document)
Forestry Commission research and findings